© © UNICEF/NYHQ2009-1846/Markisz
Related News
|
News and Press - Related News
By Elizabeth Whitman | September 20, 2013
It's the second day of school, and the excitement is palpable. The girls in School No. Three in Za'atari—the main Syrian refugee camp in Jordan—are begging to know when the books will arrive. They don't have much longer to wait. A pickup truck stacked high with bright blue backpacks filled with books rolls in. Young men in neon yellow vests begin pulling the bags out of the truck bed and carrying them to classrooms.
In one class of eighth graders, one girl is disappointed. "These have been written in," she notes, holding up one of her books with blue ink scrawled across part of a page. Others do not seem to mind that the books have had previous lives. They eagerly unzip their new bags, spreading Arabic, English, science and math textbooks across their desks.
|
News and Press - Related News
"There are many causes that I am prepared to die for but no causes that I am prepared to kill for."
Mahatma Gandhi
The Story of My Experiments with Truth, 1927
|
News and Press - Related News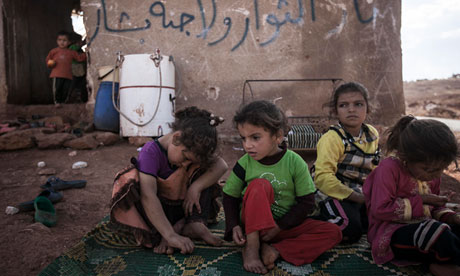 Save the Children says conflict's restriction on movement and huge inflation is causing severe food shortages
Mark Tran
The Guardian, Monday 23 September 2013
Read more: Syria crisis: starving children forced to survive on fruit, leaves and nuts
|
News and Press - Related News
By Pi James and Taleen Vartan
Experiencing violence of any kind, early in life, can have a profound impact. A consortium launched on 20 September seeks to drive progress collectively to sustained peace through early childhood development programmes.
Read more: Early Childhood Peace Consortium launched at UNICEF
|
News and Press - Related News
Special Representative of the Secretary General on Violence against Children Ms. Marta Santos Pais joined a Global Youth Summit on the use of new technologies, in which more than 700 youth leaders from different parts of the world and over 3000 online participants took part. Held from 9 to 11 September, 2013, the Summit was convened by the International Telecommunications Union (ITU), and hosted in San Jose by the Government of Costa Rica.
Read more: SRSG joins youth leaders in the Beyond 2015 Global Youth Summit during which safety online was...