© © UNICEF/NYHQ2009-1846/Markisz
Related News
|
News and Press - Related News
23 August 2013 – Three years of bloodshed in Syria have driven one million children from their homeland, United Nations agencies said today as they marked this "shameful milestone" by urging the entire international community to do more to help end the conflict and protect the well-being of "a generation of innocents."
Read more: Syrian conflict hits tragic milestone: one million children now refugees, UN agencies say
|
News and Press - Related News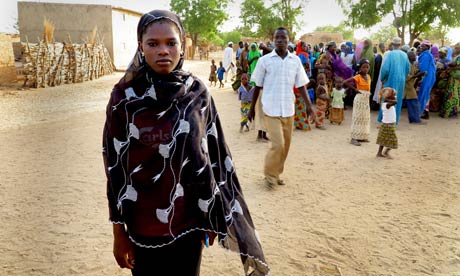 Nigerian child bride activist Zainab Oussman, 16, in Kwassaw village. At 14, she refused to marry, instead staying in school. Photograph: Sudarsan Raghavan/GettyMonica Mark in Gusau, Zamfara
The Guardian, Monday 2 September 2013 05.26 EDT
Though child marriage is prohibited under Nigerian law, a toxic blend of routine and religion continues to ruin young lives
Read more: Nigeria's child brides: 'I thought being in labour would never end'
|
News and Press - Related News
Source: Thomson Reuters Foundation - Wed, 28 Aug 2013 04:30 AM
Author: Lisa Anderson
NEW YORK (Thomson Reuters Foundation) - Saudi Arabia's Cabinet has passed landmark legislation recognising all forms of abuse, including domestic violence, as offenses deserving investigation, prosecution and punishment by law enforcement agencies, according to local media reports.
Read more: Saudi Arabia passes historic domestic abuse legislation
|
News and Press - Related News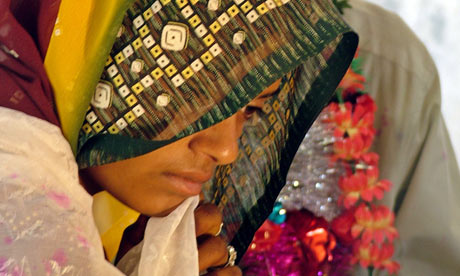 Mark Tran
theguardian.com, Friday 23 August 2013 07.56 EDT
Multimillion-dollar donations will underpin awareness and empowerment efforts in Bangladesh, Nepal and India
Read more: Child marriage campaigners in south Asia receive $23m cash injection
|
News and Press - Related News FOLLOW: Pakistan, Malala Yousafzai, International Children's Peace Prize, Malala International Children's Peace Prize, Malala Awards, Netherlands, Netherlands Honors Malala, Netherlands Malala, Pakistan Malala Yousufzai, World News
AMSTERDAM -- Pakistani teenager Malala Yousafzai, an outspoken proponent of girls' education who survived a Taliban assassination attempt last year, has been awarded a top Dutch children's honor for her activism.