© © UNICEF/NYHQ2009-1846/Markisz
Related News
|
News and Press - Related News
By Jenni Cardamone 27 June 2014
Almost two decades after 189 governments made a historic commitment in China to a world of equality between women and men, it's time to discuss progress made and challenges ahead.
|
News and Press - Related News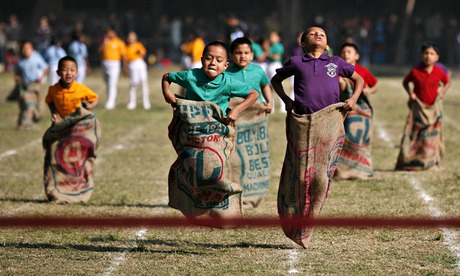 Sam Jones
theguardian.com, Wednesday 25 June 2014 19.01 EDT
Unesco admits it will be impossible to achieve millennium development goal for universal primary education by 2015
An estimated 58 million children worldwide are not going to school, meaning that there is "no chance whatsoever" that the millennium development goal of achieving universal primary education by 2015 will be met, the UN has admitted.
Read more: World has zero chance of hitting education targets, warns UN
|
News and Press - Related News
16 June 2014 – Marking the Day of the African Child, United Nations Special Envoy for Global Education Gordon Brown today called for the world to remember the kidnapped schoolgirls of Chibok, Nigeria, while also praising young people around the world as they mobilise to demand education for all.
"Thousands of people have come together united with one cause: safe schools for every girl and boy," Mr. Brown said in his message for the Day, which this year focuses on the theme, 'A child friendly, quality, free and compulsory education for all children in Africa.'
"While the global community has failed to deliver safe schooling, young people are demanding safe, quality schools for all children everywhere," he added, "and stand in solidarity with the northern Nigerian girls of Chibok and all those around the world who face these struggles."
Boko Haram militants abducted more than 200 girls from their school in Chibok in Borno state on 14 April.
Read more: On African Child Day, UN education envoy urges focus on kidnapped Nigerian schoolgirls
|
News and Press - Related News
Sarah Costa
Executive Director, Women's Refugee Commission
The scale of violence committed against women and girls, mostly by men, constitutes a global crisis affecting all people and all societies. From physical and psychological abuse, rape and genital mutilation to exploitation and human trafficking, gender-based violence (GBV) has profound and long-lasting consequences for individuals, families and communities. Some of the worst atrocities may appear in the headlines, but the majority of survivors' stories go untold.
Read more: On World Refugee Day, Let's Commit to Make the Prevention of Violence Against Women and Girls in...
|
News and Press - Related News
By Jeff Andrew Lule
Several African religious leaders from different countries are to meet in the Ugandan Capital Kampala to discuss the post 2015 Development Agenda.
The Post-2015 Development Agenda refers to a process led by the United Nations (UN) that aims to help define the future global development framework that will succeed the UN Millennium Development Goals (MDGs), a set of eight global development targets which come to an end in 2015.
The summit which is expected to attract over 500 delegates, is slated to take place from July 1-2, at Imperial Resort Hotel, Entebbe. The event will also be attended by several heads-of-state, policy-makers and experts.