© © UNICEF/NYHQ2009-1846/Markisz
Related News
|
News and Press - Related News
April 19, 2014 (JUBA) - A number of children were killed in Thursday's fighting at a United Nations base in South Sudan's Jonglei state, with many either caught up in the crossfire or died after being recruited by armed groups and forces, the UN Children's Fund (UNICEF) said.
The exact number of children killed, it said, was not yet known but they were among the dozens of civilians injured and many killed when gunmen attacked those internally displaced at the UN protection of civilians site in the capital, Bor.
Read more: Children brutally killed in South Sudan fighting: UNICEF
|
News and Press - Related News
Frances Alonzo
April 20, 2014 11:24 PM
Earlier this month, former British Prime Minister Gordon Brown announced "child-marriage free zones" to be established in Pakistan. The UN special envoy on global education said the move is part of a global effort to end the practice, and will try to keep Pakistani girls in school.
|
News and Press - Related News
Author: Megan Rowling
LONDON (Thomson Reuters Foundation) - Up to 50,000 undernourished children below the age of five are likely to die in war-torn South Sudan unless they receive urgent treatment, the U.N. Children's Fund has warned.
Nearly a quarter of a million children will suffer severe acute malnutrition by the end of the year if more is not done now to tackle hunger, UNICEF said on Friday. "The youngest citizens of the world's newest nation are on the verge of a nutrition crisis," it added.
Read more: Up to 50,000 children may die in S. Sudan without urgent help - UN
|
News and Press - Related News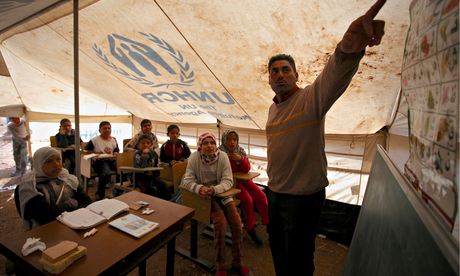 Sam Jones
Unicef calls for three years' sustained financing for education of displaced children to prevent even greater humanitarian disaster
The crisis in Syria, which has left 5.5 million children in need of urgent educational and psychological support, will become an even greater humanitarian catastrophe if the international community does not come up with three years' guaranteed funding, Unicef has warned.
Read more: Syria's children need guaranteed funding to prevent a 'lost generation'
|
News and Press - Related News The Huffington Post | by Eleanor Goldberg
After enduring 13 years of physical and psychological torture, Berivan Elif Kilic decided to leave the husband she was forced to marry and commit her life to protecting other young girls from enduring the same horror.
When Kilic was just 15, she was taken out of school, married off to a cousin and gave birth to two children soon after, the Daily Beast reported. Though the legal age to marry in her home country of Turkey is now 17, the practice of marrying girls off is still rampant.
Read more: This Woman Went From Being An Abused Child Bride To A Mayor Fighting For Women's Rights